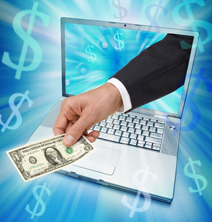 Everyday we receive emails from people asking for contract on-line work – work they can do using their own computer from home. They offer services like wordprocessing, data input, email management, article writing, web-design … and the list goes on. Their messages indicate to me, that many virtual "work from home" businesses are struggling to get enough clients to make their virtual assistant business viable.
This is how the typical enquiry goes "I've been running my own Virtual Assistant Business from home for 3 years now. It's a part-time business for me right now but I'd like to expand and I do have capacity to take on extra work. I'd like to apply for a contractor position within your company …"
Is that you? Are you desperately trying to break away from the office politics and set yourself up to work from home. I don't blame you – I've been there. Or maybe you have already started your own business from home but are struggling to find clients and build your income. I've been there also, so I know how you feel. It isn't easy right?
The thing is, you can turn this around. You can have a stream of clients, lining up willing to pay for your services. Services you can deliver from your home office, in your PJ's if you want.
To be successful one thing you do need to do is offer the RIGHT kind of services. There are so many services you can offer – database entry, letter distribution, transcription, article writing, web development, customer service ______, ________ Fill in the gaps – the list is endless. Nowadays anything that can be done in a regular office environment can be done from your virtual office.
So the thing here is, you need to make sure the services you are offering are in DEMAND. Ask yourself – What do my clients really want? What are they asking for? How do you know that's what they want? What am I doing to keep myself up to date?
If you want a healthy, thriving and profitable virtual assistant business – you need to know the answers to those questions.
Right now, I'm going to give you a quick tip … By asking your clients the right questions, you can find out what they really want. One of the processes we have in place is a start-up questionnaire for prospective clients. When a client visits our website, we ask them to fill in a questionnaire. Through that question, we know what it is that our clients are asking for – we can find out what they really want from us. I'm going to lay it out for you real simply here. These are the top 5 services our clients are asking for. These are the top 5 services they want – every time.
Here they are:
NO 5: Blog Set-up and Support
NO 4: Newsletter/Ezine Marketing Design and Distribution
NO 3. Website Design and Webmaster Support (especially WordPress)
NO 2. List Management and Shopping Cart Assistance ie. Infusion Soft, 1Shopping Cart, Aweber
NO 1. Social Media Management – Twitter and Facebook Growth strategies
This is not the exhaustive list, but it gives you a good idea of what our marketplace is asking for.
If you're not offering at least one of the services listed above, you're crazy!
If you don't know what they are you better find out.
And if you know what they are but need helping getting the skills you've come to the right place, just register for our VA tips above and you will receive our upcoming training alerts and articles.