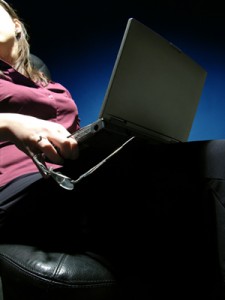 These four (4) clever online interview ice-breakers aren't just ice-breakers.  They are revealing "chit chat" style questions that you can use to not only "break the ice" but to find out some very useful and interesting details about your potential virtual team worker – before you even start the interview.
4 questions in 4 minutes and you'll already know much about the working style of your virtual worker applicant.  Things like >>  if they like to be well prepared, if they have the technical set-up required to work virtually, if they will be available to you when you need them, what motivates them and if the working relationship will be long-term and sustainable.
Here are 4 revealing interview ice-breaker questions:
 1.       Did you find it easy getting into the online interview room?
The answer to this question can reveal many things about the working style of the virtual worker like …
Are they the kind of person that likes to be well prepared? Did they log into the conferencing system to test the software first?
Did they allow time for mistakes or technical mishaps or do they like to "wing it"?
Are they "techy" savvy enough to download the appropriate software and log on to the meeting room without too much drama?
2.         What timezone are you in?  Do you usually work at this time?
 The answers may reveal potential problems you could have in connecting with your virtual worker .   Will you be able to connect with the interviewee when you need to?  Will the timezone difference be sustainable for both parties working across the globe.
Tip:   working with a virtual team in a different timezone can work to your advantage.   Just ask Bernadette Doyle of Client Magnets.  She's grown a multi-million dollar business by using different timezones to her advantage.
3.         Are you connecting from your home office or somewhere else? 
 Now listen and watch for what the interviewee is telling you.   Does your potential virtual worker have a home office? Have they got a set-up that shows they are experienced at working virtually?   Is there a lot of noise in the background?  What about distractions?  Ask for the video camera facility to be used.    You will learn alot about their ability to stay focussed and deliver results on time.
4.        Why do you like the idea of working virtually?
This is a good one.  In asking this question, you'll quickly find out a little about what motivates your potential virtual worker.  Is it lifestyle – will they be traveling and how will that impact your business.   Is it for better family balance?    The answer will also quickly reveal if your interviewee has "rose colored glasses" about the idea of working virtually. Perhaps they are only aware of the benefits and not the challenges.
Do you have any online interview ice-breakers you'd like to share.   We'd love to hear your comments.  Please share below …