Virtual Assistant Services
Selling is a dirty word in most circles.  They picture the sleazy greasy second hand car salesperson slithering along with catchy one-liners trying to entrap a potential unknowing client. Well today I want to redefine Selling.
Does the thought of meeting with a client fill you with nervous tension?

Does the thought of figuring out what to say cause you to lose sleep?
That's because you don't know what Selling really is.
Understanding this helped me many years ago nearly top the sales for a company while being the only part time sales representative amongst all full timers.  I could not and still cannot, SELL, but I can identify problems and provide solutions.
Let me illustrate… Continue reading →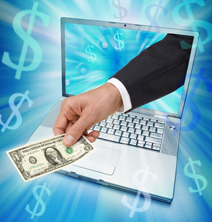 Everyday we receive emails from people asking for contract on-line work – work they can do using their own computer from home. They offer services like wordprocessing, data input, email management, article writing, web-design … and the list goes on. Their messages indicate to me, that many virtual "work from home" businesses are struggling to get enough clients to make their virtual assistant business viable.
This is how the typical enquiry goes "I've been running my own Virtual Assistant Business from home for 3 years now. It's a part-time business for me right now but I'd like to expand and I do have capacity to take on extra work. I'd like to apply for a contractor position within your company …"
Is that you? Are you desperately trying to break away from the office politics and set yourself up to work from home. I don't blame you – I've been there. Or maybe you have already started your own business from home but are struggling to find clients and build your income. I've been there also, so I know how you feel. It isn't easy right?