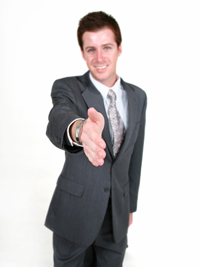 Imagine this scenario for a moment. You're a Virtual Assistant, looking for an additional client to expand your virtual assistant practice. On the other side of the country a small business marketing entrepreneur is looking for a new personal assistant online to provide additional support for his rapidly growing business.
My question is…how does this new potential client know you're available and ready to work with him TODAY?  Wouldn't it be wonderful if he already knew your virtual assistant services were available BEFORE he started to seek out his new virtual assistant?
So what can you do to make sure your potential clients know about you? What can you do to make sure your potential clients come to you first before they consider working with anyone else?  It's a hell of a lot easier to have them come to you, rather than you struggling to find new clients and struggling to pay your bills.  Master the 3 tips below and you'll soon be in a position to "pick and choose" the clients you work with…
Tip 1: Make sure your existing clients know your open to taking on new clients
This is so easy. All you need to say is "hey Gail, I've got an opening in my business to work with one additional business owner, do you know anyone in your network who would benefit from my services?"
If you already have a reputation of providing exceptional service and adding value to your clients' business you will most certainly have a new client knocking on your door very shortly.
Tip 2: Reward your new virtual assistant client with a thank you
When your client passes on a new referral, be sure to send them a special thank you.  Here is something that I have found to work REALLY well. Do up a short demo video that they can use in their business marketing.  Perhaps something they can post on their website. Be sure to tag it as being your work. This gives you two advantages…
i) Your client will love the new video you've done for them and ii) when it is posted on their website, others will see your brilliant work.
What other ideas can you come up with?
Tip 3: Create a virtual assistant profile in the marketplace that is VERY visible
These are some essentials you'll need:
A professional website with a way your client can interact with you easily. Check this site out as an example:  www.myvaspace.com
Social Media presence…Facebook, Twitter and LinkedIn
Outstanding Reputation for quality work and service.
Attend the online and live functions that your target markets are attending.  Many virtual assistants attend functions and network with other virtual assistants.  That's great, but make sure you are networking with your potential new clients.
So it's time to get busy.  Pick up that phone, send that email and allow your influential clients to send you new clients.  Do it TODAY…
>>>>>> START bringing in new clients to your VA biz faster by getting EXPERT advice and support .   Supercharge your va biz with this new clients training kit.   A better va biz awaits you right here:  http://www.onlinevirtualassistanttraining.com/new-virtual-assistant-clients/system  <<<<<<<<<<<