I saw this question posted on a Virtual Assistant Forum recently…"Where do Most of your New Client Leads Come From?"
How would you answer? Take a look at the list of client lead generation sources below. All of these sources can bring in new clients; however one source when implemented correctly will stand out well above the others.
a. Facebook
b. Linked-In
c. Advertising in Industry magazines
d. Networking
e. Word-of-Mouth
f. Online Virtual Assistant Directories
So, which method is it?   Which one do you believe to be the BEST method or source of new clients for your Virtual Assistant business?
I agree Facebook is certainly HOT at the moment; it's a great way to build relationships, stay up to date with the virtual assistant industry and connect with industry leaders.  Are you using Facebook to its full advantage?
I have also personally hired virtual assistants through online directories.  There are many available that you can register with like The UK Association of Virtual Assistants or Virtual Assistants Forum . But BEFORE you go spending loads of time registering please read on.  You'll want to get the full story first.
In fact, all the client lead generation sources listed above can bring in new clients for your virtual assistant business.   However the one that stands out above all others and will not cost you a cent is "e" – "Word of Mouth".  I can without a doubt, tell you that when you master the Word of Mouth virtual assistant marketing method you will never have need for a new client again!
So what about you?  Did you select "e" as your answer?  If you did great!  Are you using the power of word-of-mouth marketing to your full advantage?  If you didn't select "e", then, chances are you're missing out on a huge opportunity.  It's so easy to get new clients for your virtual assistant business – when you know how!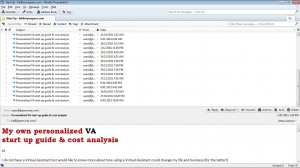 Here at Virtual Team Intelligence we get a continual flow of new clients coming in our door.   Just check out the screen shot to the left and you'll see just some of the requests we have coming through – that's via just one method we use. We'll tell you more later.  Read on…
If you're struggling to get new clients for your virtual assistant business, the good news is you don't have to struggle any more.  We've got more clients than we can handle so we're opening the door to some of our insider secrets –
We reveal some of our secrets in this cool interactive treasure map
Download your copy free here: http://www.onlinevirtualassistanttraining.com/new-virtual-assistant-clients